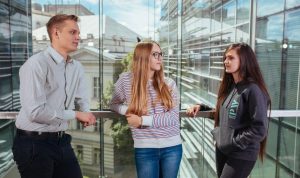 The registration of candidates to Doctoral Schools takes place from 5 to 17 January 2022. We currently have five Doctoral Schools at WUT. The recruitment is now conducted in four of them:
Doctoral Schools are a form of doctoral education that has replaced the previously known third-cycle (doctoral) studies.
The first step in the recruitment process is registration and submission of all required documents via IRK system (5-17 January 2022). Then there are recruitment interviews (scheduled for January 19-24). After the publication of the ranking list of pre-qualified persons (January 25), a document should be submitted within the prescribed period (January 26 – February 1) with the consent of the PhD supervisor and the head of the organizational unit where the research will be conducted.
A detailed recruitment schedule is available on the website of Doctoral Schools.
Each doctoral student receives a monthly scholarship of PLN 2,372 gross. They can also apply for additional scholarships from projects carried out at the University (e.g. Excellence Initiative – Research University or SEED – Internationalization of Doctoral Schools) and beyond.
As part of the doctorate programme, a selected research topic is investigated. Doctoral students often have the opportunity to participate in interesting grants. Some of them are created in cooperation with well-known Polish and foreign research centers and companies.
It is also possible to pursue double degree at WUT (in cooperation with selected universities from around the world).
However, doctoral student life is not only research, but also non-scientific activity: in doctoral self-government, research clubs or artistic groups.
More information about Doctoral Schools and admissions can be found at www.sd.pw.edu.pl/sd_en
In 2021, the Faculty of Electrical Engineering of the Warsaw University of Technology celebrates its 100th anniversary. We invite you to follow the jubilee website www.ee.pw.edu.pl/100-lecie/.