What do the graduates of the Warsaw University of Technology do after finishing the school? How do they find themselves on the job market and how do they benefit from the experience gained at the University? Tomasz Kublin – a graduate of the Faculty of Electrical Engineering of the Warsaw University of Technology, specialty: electric machines, electromagnetic system lead at Hyper Poland – describes his professional career in Hyper Poland after graduation.
The company Hyper Poland had its origins at the Warsaw University of Technology, and today is the most technologically advanced Hyperloop company in Europe, intensively implementing this modern means of transport in Poland.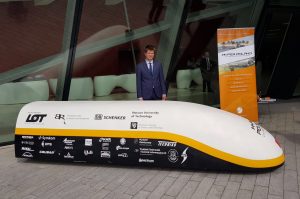 Tomasz Kublin: "After completing my studies at the WUT I'm continue to develop in the field that I studied and wrote my master's thesis. Not many graduates of technical faculties can afford to work and at the same time expand their scientific knowledge they are interested in. In addition, by creating technology in Hyper Poland, we are committed to the development of new technologies of rapid transport. It is so excited to create something future-oriented instead of selling or producing something exactly the same as the competition.
Currently, we design drive and electromagnetic suspension for the small-scale model. My task is to design a magnetic levitation system that will consist of permanent magnets. These, while moving along the aluminum track, create a force that lifts the entire vehicle. Together with the electromagnetic department, I also develop the concept of propultion as well as vehicle control and power system.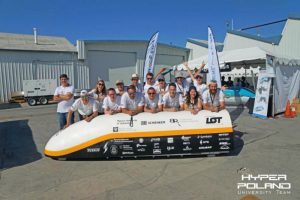 In my opinion experienced gained by being active at student research groups brings a lot of value for students, because they teach things that they normally have no chance to learn only by studying. I have acquired many non-technical skills in the student research group, such as the ability to make decisions, punctuality and keep track of deadlines, working under time pressure, but also interpersonal cooperation and communication. All of these allowed me to get into the Hyper Poland working mode better, because I did not have to learn the basics and already had the skills that are necessary in teamwork."
More stories of graduates of the Warsaw University of Technology pursuing their professional passions in Hyper Poland you'll find in the article Hyper Poland – behind the scenes of the transport revolution (only in Polish) >>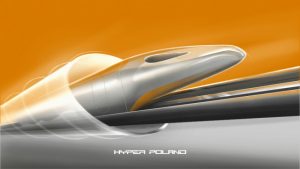 The Hyper Poland company, founded by engineers associated with the Warsaw University of Technology, has now obtained funding of PLN 16.5 million from the National Center for Research and Development in the "Fast Track" competition. In addition, the company has so far collected over PLN 1 million in the share crowdfunding campaign on the British Seedrs platform. These funds will enable the development of hyperloop technologies in Poland.
More information you'll find in the article Polish hyperloop getting closer (only in Polish) >>