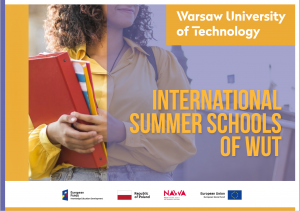 We invite foreign students from the European Universities of the Enhance Alliance and other Universities to apply for the programme of the International summer school of the Faculty of Electrical Engineering –
"Modern electrical engineering" Program
Language: English
Format: Online
Date: 3rd – 15th July 2023
Duration: 2 weeks (75h – teaching hours)
Credits: 7 ECTS
The educational programme of the International summer school of the Faculty of Electrical Engineering is aimed for foreign students enrolled for the first-cycle degree studies (undergraduate studies) or a long-cycle Master's programme, who have completed at least 4 semesters of studies or enrolled for second-cycle studies (postgraduate studies).
Students in the summer school, will learn the basics of electrical engineering, electrical power engineering, power electronics, electrical metrology, electrical installations, energy distribution and transmission networks, and computational methods in technology.
The classes will last two weeks and will be held online in the form of lectures and seminars 75 teaching hours are planned. In addition to scientific lectures, Polish culture and science will be presented to students. They will be conducted by the teachers of the Faculty of Electrical Engineering of the Warsaw University of Technology.
After completing the course, each participant will receive a summer school graduation completion at the Faculty of Electrical Engineering end will receive 7 ECTS.
Program of the International Summer School of the Faculty of Electrical Engineering – Modern electrical engineering:
No.
Course name
Time [h]
ECTS
1.
Introduction to the power industry
10
1
2.
Energy distribution and transmission networks
10
1
3.
Electrical installations
10
1
4.
Fundamentals of electronics and power electronics
10
1
5.
Computational methods in technics
10
1
6.
Electromobility
10
1
7.
Technical measurements and signal processing
10
1
8.
Popularization of Polish culture and education in Poland
5
0
The sum of hours completed as part of a remote or hybrid course:
75
7
Recuirements
The candidate must fulfill the following formal criteria:
have student status, which must be valid through the entire duration of the summer school programme (confirmation of student status required),
completed at least 4 semesters (two years of studies) in the case of first-cycle studies or – pursuing second-cycle studies, fill out the application form https://ankieta.cziitt.pw.edu.pl/index.php/397877?lang=en,
have knowledge of English at least B2 level – enabling active participation in the programme (language certificate required).
Details of Terms and admission »
More information
The recruitment process has just started!
Start of the recruitment: 15.03.2023
Deadline of the recruitment: 14.05.2022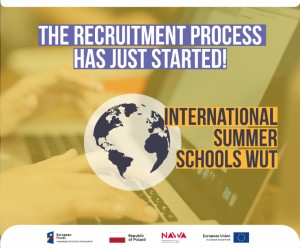 Contact
International Summer School of the Faculty of Electrical Engineering
Modern electrical engineering:
PhD DSc. Eng. Wiesław Wilczyński, Professor at WUT
e-mail: wieslaw.wilczynski@pw.edu.pl