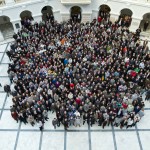 On Saturday 7.04 and Sunday 8.04, our university and all faculties will be open to candidates for studies.
This is a great opportunity to talk with students and employees.
Information obtained during the Open Days are very usefull when you will be enrolling the faculty as well during your studies.
Schedule and information on open facilities are available on the Warsaw University of Technology website.