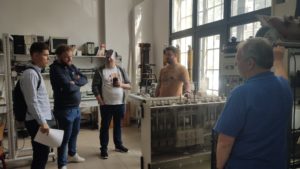 On Wednesday, 09/09/2020, the engineers from Pradma Dariusz Naruszewicz visited the Laboratory of Electrical Apparatus and Switching Processes. Together with Ph.D. Tadeusz Daszczyński studied the construction of the e2ALPHA type MV switchgear by Elektrometal Energetyka S.A. The aim of the cooperation is to create a virtual model of MV switchgear for teaching and training purposes.
Virtual Reality (VR) is a technology that provides an interactive computer-generated environment, usually with a dynamically changing scenario in which to see and navigate. VR simulates the user's physical presence in an artificially created world and allows them to interact with this virtual environment. As part of the cooperation, it is planned to build 2 laboratory stands that will be used in didactics conducted in the Laboratory of Electrical Apparatus and Switching Processes.
Virtual Reality (VR) offers endless possibilities to create new products, such as multimedia courses, virtual laboratories, and share these resources that can be used in formal education courses or lifelong learning, for self-updating or training processes. Learning by doing, unlike the so-called the knowledge delivery model, is a fundamental element of modern education. The possibilities for using virtual worlds to create applications in education can be countless.
The methodology for completing the entire project of building the VR model of MV switchgear is based on the design thinking (DT) methodology, which is an innovative approach to generating and developing ideas that meet the needs of the end user.
---
Read also: