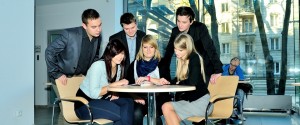 Graduate, share your opinion about the Warsaw University of Technology and your career path since leaving the university walls.
Career Office of Warsaw University of Technology begins the next edition of the Alumni Research Careers, which aim is to know the opinion of the completed studies and to obtain information on the current situation of graduates on the labor market PW .
We invite all graduates, including current employees of WUT, to share your opinion with us. The results of the study will help to customize and improve study programs to the current requirements of the labor market.
The survey is completely anonymous.
Link to poll: http://www.dwbs.pw.edu.pl/limesurvey/index.php/451268/lang-pl
The previous edition of the study (2013) shows that 89 % of graduates are happy. 75 % of respondents claimed that if they had more time to take a decision on the choice of educational path, it again would choose Warsaw University of Technology.
Full information about last year's Alumni Professional Careers Service Monitoring of WUT: http://www.bk.pw.edu.pl
The report of the current edition of the survey will be published in the second quarter of the year on the main WUT webpage in the portal Career Office and faculty websites.