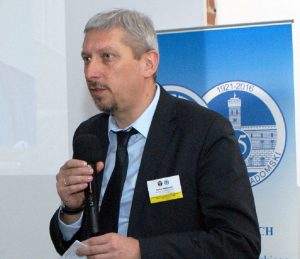 We are proud and satisfied to announce a great success of Professor Mariusz Malinowski beeing elected for the prestigious function of the President of IES – IEEE Industrial Electronics Society. IES is one of the IEEE – Institute of Electrical and Electronics Engineers – Societes. Professor Malinowski was elected by secret voting of the members of this international organization during the last IEEE IES management board meeting which took place on October 18th, 2019 in Lizobon. For the first time, a candidate from Poland became the President of IES.
Prof. Mariusz Malinowski is a head of Industial Electronics Department in the Institute of Control and Industrial Electronics at the Faculty of Electrical Engineering of the Warsaw University of Technology. This achievement is the culmination of many years of work and activity of the professor at IEEE, which can best be expressed in the words of Professor Marian Kaźmierkowski

– "Congratulations on this wonderful success – to be elected President of our Industrial Electronics Society (IES) !!! I know that you deserved your high position in IES with many years of work and involvement in various positions (including Chief Editor Ind. Magazine, VPresident for Publications), as well as great enthusiasm and optimism indispensable for the implementation of social activities in IEEE. I am joining you today with joy and I wish you further contentment and satisfaction with appreciation in IES and successful development of IES under your leadership!"

Institute of Electrical and Electronics Engineers (IEEE) Industrial Electronics Society (IES) brings together more than 7,000 members around the world in the areas of electrical engineering and runs the leading magazines of very high IF. Moreover, IES organizes worldwide conferences recognized in the industrial electronics society as leading and creative for many areas of the industry. It also supports the development of science and young scientists from around the world. For the first time IES chose a Polish candidate for its President. So far, only two persons from Poland have been elected as presidents in their societies (prof. Józef Modelski from Warsaw University of Technology in IEEE Microwave Theory and Techniques Society in 2008 and prof. Maciej Ogorzałek from Jagiellonian University in IEEE Circuits and Systems Society in 2008).
More information (in English) at WUT website»