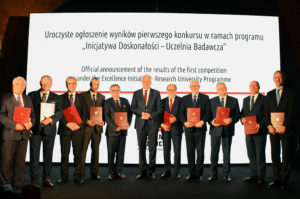 A team of international experts selected top 10 best universities to participate in the program "Excellence Initiative – Research University" from a short list of 20. The winners in the Ministry of Science and Higher Education's program will receive an extra 10% on top of the regular subsidy in 2020 to 2026.
The Warsaw University of Technology is one of them, ranked third in the classification together with the Jagiellonian University and the AGH University of Science and Technology, Kraków, and Adam Mickiewicz University, Poznań
"Being named a Research University is a great honor for all of our academic community at the Warsaw University of Technology and a token of appreciation for our efforts and commitment to ambitious projects, especially in the European research, which is aligned with our pursuit to develop an international outlook across all the University's activities," said Rector of the Warsaw University of Technology, Prof. Jan Szmidt, Ph.D., D.Sc., Eng.
The full list of the awarded universities is as follows:
Warsaw University
Gdańsk University of Technology
Adam Mickiewicz University, Poznań
AGH University of Science and Technology, Kraków
Jagiellonian University
Warsaw University of Technology
Medical University of Gdańsk
Silesian University of Technology
Nicolaus Copernicus University, Toruń
University of Wrocław
More information: www.gov.pl