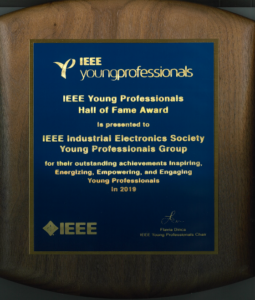 The IEEE Industrial Electronics Society (IES) Young Professionals (YP) Group, under the leadership of Marek Jasiński, D.Sc. Eng. from the Faculty of Electrical Engineering of Warsaw University of Technology, has become this year's laureate of the IEEE Young Professionals Hall of Fame Award in the category of IEEE Society.

The award is meant to recognize active and inspiring Young Professional Affinity Groups and Society Groups worldwide, based on their activities. Main factors taken into account during evaluation of submitted nominations include:
Vitality of the group measured in the amount and quality of organized activities. These activities shall have an important impact on the Young Professional community;
Collaboration with other IEEE units in order to facilitate engagement of members of all grades;
Collaboration with industry and academia;
New inspiring ideas that help grow the local Young Professionals community.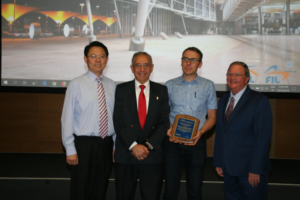 It is the success of all IES members, in particular IES officers and AdCom board members, thanks to whom Young Professionals were able to operate effectively. The group was appreciated against 18 other groups
IEEE YP.
phot. IES presidents and IES YP chairman Marek Jasiński (third from the left)