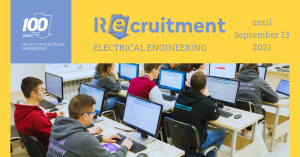 Enrollment for full-time second level studies in Electrical Engineering in English extended until September, 13 2021.
Registration in the university's IT system and receipt of documents takes place on 03-13.09.2021. www.zapisy.pw.edu.pl
Place of receipt of documents: WUT Main Building, room 130, Dean's Office for Full-time Studies, contact »
Office hours: Mon – Fri from 09:00 – 15:00.
Recruitment for full-time second level studies – Electrical Engineering in English
---
Required documents
a diploma of completion of first level studies (or second level studies) with a supplement or a certificate of completion of studies containing the date of graduation and a study course card,
curriculum vitae (CV) including education, employment and possible professional experience,
optional – language certificate,
2 current photos (in accordance with the requirements for issuing ID cards with dimensions of 35×45 mm) signed on the reverse with your name and surname,
proof of payment of the enrollment fee (in case there is no information on the IKR if the payment has been made),
identity document (for inspection).
---
Comments
If a candidate for second level studies applies for these studies immediately after completing the first level studies at the same faculty, it is not necessary to present a diploma and supplement, but please confirm the application for second level studies with the dean's office.
The results of the preliminary qualifications for studies will be announced by September 10, 2021. The results of the final qualifications for studies will be announced by September 17, 2021, considering the candidates who submitted their diploma examination certificate by September 13, 2021.
Candidates with a diploma obtained outside the Polish system of higher education are also required to submit, together with the diploma, a legalization document or Apostille and, if they hold a diploma issued in a language other than English, a translation of the diploma into Polish by a Polish sworn translator.
Candidates for full-time studies conducted in English who do not have a diploma of completing first level studies conducted in English, are required to prove their command of this language at a level of at least B2 by presenting a language certificate. The list of recognized certificates is available on the website www.pw.edu.pl/Rekrutacja.
For recruitment purposes, the university does not take the originals of diplomas and supplements, but only certified copies. It is recommended to prepare copies before submitting the documents, present the original at the time of submitting the documents, and the person accepting the documents will certify the copies to be true to the original. A similar rule also applies to language certificates and legalization documents.
In 2021, the Faculty of Electrical Engineering of the Warsaw University of Technology celebrates its 100th anniversary. We invite you to follow the jubilee website www.ee.pw.edu.pl/100-lecie/.