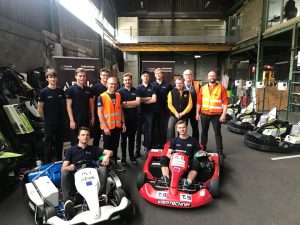 ADek Student Research Group operating at the Faculty of Electrical Engineering has been working on their vehicles for years. Recently, they have shown their machines at Limoges e-Kart Challenge (May 27–28, 2019). The team took home three awards and a wealth of experience. What solutions do students test in their go-karts? What has won them the trophies in France?
"We took both our go-karts with us: PL1, which we have been working on and constantly improving since the inception of our Research Group, and PL2, our high-performance model," says Piotr Lange.
ADek presenting their vehicles
PL1 is distinguished by low power consumption and quick battery change. "We can charge one battery out of the go-kart while another is in use in the go-kart," explains Maciej Ostapkowicz. "Besides, we have installed an in-house designed and built battery balancer, or a system to make sure that all cells are equally charged. Based on this go-kart, we have created a driving simulator for anyone interested to sit behind the wheel of a racing car and try their hand at a racing game.
PL2 can achieve a driving speed of ca. 100 km/h (62 mph). And it needs just 6 seconds to get that speed. "It has an integrated onboard computer of our making which monitors and displays the key parameters such as speed, battery voltage or engine temperature," says Jarosław Wiśniewski.
Awards and experience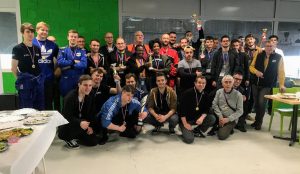 The Limoges e-Kart Challenge assessed the technological advancement of go-karts and how they perform in circuit racing (a 10-minute long one-lap race against the time and a 2-hour endurance race with an objective to do as many laps as possible).
The students of the Warsaw University of Technology won awards for their battery-related systems (for the battery balancer), electronic systems (for the onboard computer and the driving simulator) and the grand award for their overall achievement. "This is a reward for the commitment of all our team and the general advancement of our go-karts and for the progress we have made on the previous year," recaps Robert Juchniewicz.
ADek Student Research Group has been a regular contender at the Challenge in France for 5 years. This year, it has been represented by a team of eight from the Faculty of Engineering and the Faculty of Automotive and Construction Machine Engineering, composed of: Piotr Lange, Maciej Ostapkowicz, Jarosław Wiśniewski, Robert Juchniewicz, Marcin Śliwiński, Bartłomiej Kiepura, Mateusz Chojnowski and Maciej Wiszniewiecki. The Research Group supervisor, Piotr Biczel, D.Sc., Eng., of the Faculty of Electrical Engineering supported the students at Limoges.
Source: www.pw.edu.pl, ADek fanpage